Department of Health Resources
Harrisburg, PA - The Department of Human Services (DHS) today encouraged Pennsylvanians to make socially responsible decisions that protect themselves, their families, their communities and vulnerable populations, such as individuals with disabilities, from the...
read more
Federal Stimulus Package
'Putting Workers First'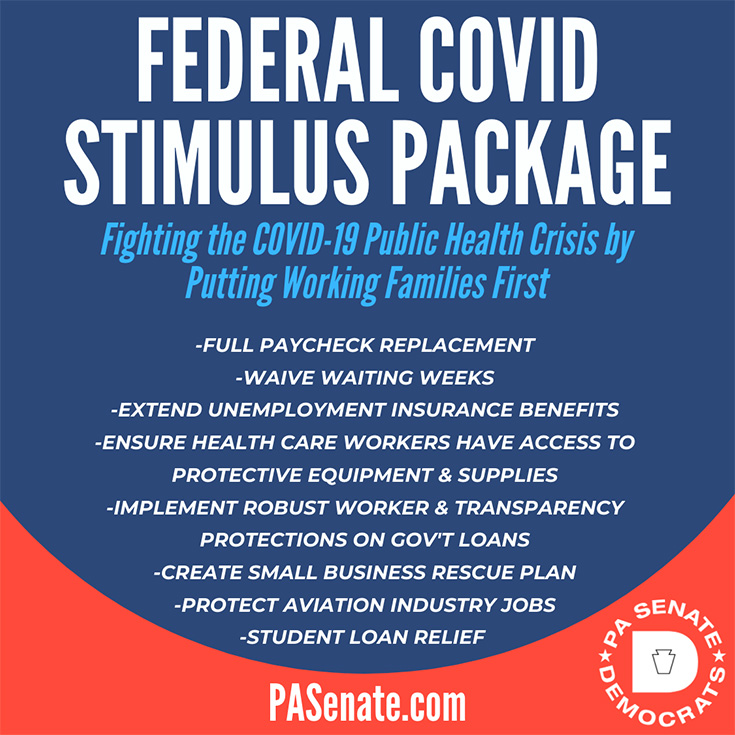 A bipartisan, robust third COVID-19 bill that will immediately bolster our health care response and our economy.
Unemployment Insurance: ($260 billion)
A massive investment in the UI program as well as critical reforms to make the program more effective for workers. In the wake of the economic recession caused by the coronavirus the UI program is an essential a long-term lifeline for millions of workers during this crisis.
Full Paycheck Replacement: $600 increase for every American, which equates to 100 percent of wages for the average American without a paycheck struggling through the Crisis
Waiving Waiting Weeks: Gets money in people's pockets sooner by providing federal incentives for states to eliminate waiting weeks.
Extension of Benefits: An additional 13 weeks of federally-funded unemployment insurance benefits are immediately be made available.
Expanding Access: Allow part-time, self-employed, and gig economy workers to access UI benefits.
Marshall Plan For Our Health System ($150 billion)
An unprecedented and historic investment for our health care system in its fight against the COVID-19 pandemic. The new $150 billion fund is widely available to all types of hospitals and providers most affected by COVID-19, and it will be available to fund whatever is needed to defeat this virus.
This includes:
Equipment and Infrastructure: Personal and protective equipment for health care workers, testing supplies, increased workforce and training, new construction to house patients, emergency operation centers and more.
Enhanced Health Investments: Additional funding is also dedicated to delivering Medicare payment increases to all hospitals and providers to ensure that they receive the funding they need during this crisis, and new investments in our country's Strategic National Stockpile, surge capacity and medical research into COVID-19.
Robust Worker and Transparency Protections on Government Loans
No stock buybacks or dividends for the length of any loan provided by the Treasury plus 1 year.
Restrictions on any increases to executive compensation.
Protect collective bargaining agreements.
Real-time public reporting of Treasury transactions under the Act, including terms of loans, investments or other assistance to corporations.
Prohibition on businesses controlled by the President, Vice President, Members of Congress, and heads of Executive Departments getting loans or investments from Treasury programs.
Creation of Treasury Department Special Inspector General for Pandemic Recovery to provide oversight of Treasury loans and investments and a Pandemic Response Accountability Committee to protect taxpayer dollars. • Creation of a Congressional Oversight Commission to enhance legislative oversight of pandemic response.
Small Business Rescue Plan ($377 billion)
$350 billion in loan forgiveness grants to small businesses and non-profits to maintain existing workforce and help pay for other expenses like rent, mortgage, and utilities.
$10 billion for SBA emergency grants of up to $10,000 to provide immediate relief for small business operating costs. • $17 billion for SBA to cover 6 months of payments for small businesses with existing SBA loans.

Protected Over 2 Million Aviation Industry Jobs
Democrats secured direct payroll payments to keep millions of airline workers on the job and receiving paychecks.
Airline companies will be prohibited from stock buybacks and dividends for the entire life of the grant plus one year.
Collective Bargaining Agreements negotiated by workers will be protected.

Increased Direct Payments to Working Americans
Democrats fought to double cash payments to the working class Americans from $600 to $1,200
An additional $500 cash payment is available per child.
The full payment is available for individuals making up to $75,000 (individual) and $150,000 (married).
The value begins decreasing and then phases out completely for those making over the full payment income cap.
State and Local Coronavirus Expenditures Fund ($150 billion)
To assist States, Tribes, and local governments that must pay for new expenses related to COVID-19 response.
$150 billion, with a small-state minimum of $1.25 billion
Tribal set-aside of $8 billion
Emergency Appropriations ($330 billion, including $100 billion for hospitals and providers mentioned above)
$16 billion to replenish the Strategic National Stockpile supplies of pharmaceuticals, personal protective equipment, and other medical supplies, which are distributed to State and local health agencies, hospitals and other healthcare entities facing shortages during emergencies.
$1 billion for the Defense Production Act to bolster domestic supply chains, enabling industry to quickly ramp up production of personal protective equipment, ventilators, and other urgently needed medical supplies, and billions dollars more for federal, state, and local health agencies to purchase such equipment.
$4.3 billion to support federal, state, and local public health agencies to prevent, prepare for, and respond to the coronavirus, including for the purchase of personal protective equipment; laboratory testing to detect positive cases; infection control and mitigation at the local level to prevent the spread of the virus; and other public health preparedness and response activities.
$45 billion for FEMA's Disaster Relief Fund, more than doubling the available funding, to provide for the immediate needs of state, local, tribal, and territorial governments, as well as private non-profits performing critical and essential services, to protect citizens and help them recover from the overwhelming effects of COVID-19. Reimbursable activities may include medical response, personal protective equipment, National Guard deployment, coordination of logistics, safety measures, and community services nationwide.
$30.75 billion for grants to provide emergency support to local school systems and higher education institutions to continue to provide educational services to their students and support the on-going functionality of school districts and institutions.
$25 billion in aid to our nation's transit systems to help protect public health and safety while ensuring access to jobs, medical treatment, food, and other essential services.
$10 billion in grants to help our nation's airports as the aviation sector grapples with the most steep and potentially sustained decline in air travel in history.
$3.5 billion in additional funding for the Child Care Development Block Grant to provide child care assistance to health care sector employees, emergency responders, sanitation workers, and other workers deemed essential during the response to the coronavirus.
More than $7 billion for affordable housing and homelessness assistance programs. This funding will help low-income and working class Americans avoid evictions and minimize any impacts caused by loss of employment, and child care, or other unforeseen circumstances related to COVID-19, and support additional assistance to prevent eviction and for people experiencing homelessness
More than $6.5 billion in Federal funding for CDBG, the Economic Development Administration, and the Manufacturing Extension Partnership to help mitigate the local economic crisis and rebuild impacted industries such as tourism or manufacturing supply chains.
$400 million in election assistance for the states to help prepare for the 2020 election cycle, including to increase the ability to vote by mail, expand early voting and online registration, and increase the safety of voting in-person by providing additional voting facilities and more pollworkers. • $2 billion in funding to strengthen response capacity and support tribal governments: o $1.03 billion to the Indian Health Service to support tribal health care system response efforts; o $100 million more for the USDA Food Distribution Program for Indian Reservations; o $453 million to assist tribes through the Bureau of Indian Affairs; o $69 million to help tribal schools, colleges and universities through for the Bureau of Indian Education; and o $300 million more to the HUD Indian Tribal Block Grant program. • $1 billion to recapitalize Amtrak after steep ridership declines related to the outbreak. This will keep thousands of Amtrak employees employed, and ensure America's intercity passenger rail stays on track, continuing service in the Northeast and nationwide.
Student Loan Relief
To alleviate the pressure of student loan costs during this crisis, Senate Democrats fought for the inclusion of tax relief encouraging employers to implement student loan repayment programs. This provision will exclude up to $5,250 in qualifying student loan repayments paid by the employer on behalf of the employee from income for income tax purposes.
Some helpful links to understand the Federal Stimulus Package:
Status of your stimulus check
Most Americans can expect to start seeing their stimulus checks from the coronavirus relief bill in about three weeks, according to Treasury Secretary Steven Mnuchin.
Singles who have adjusted gross income of less than $75,000 would get $1,200 and married couples who file taxes jointly and earn less than $150,000 would get $2,400. Singles who earn less than $99,000 and married couples who earn less than $198,000 would get a partial benefit.
The checks will be sent based your 2019 or 2018 adjusted gross income on your tax return. If you haven't filed a tax return, you should file a tax return quickly if you can. The IRS will also access information from Social Security to send the payments.
But what if the IRS can't track you down to send you a stimulus check?
All is not lost. Just delayed.
If you don't receive your check, you'll see the benefit as a tax refund when you file your return in 2020.
That's because the funds from the stimulus check are actually an advance on a credit you will be able to take on your 2020 tax return.
So while the funds are meant to give relief now, if you don't get it, you can still take the credit on your 2020 return and you'd get the stimulus amount in the form of a tax refund, said Garrett Watson, senior policy analyst for The Tax Foundation..
Still not sure if you qualify? Use the stimulus check calculator to see what benefit you can expect.
(Source: https://www.nj.com/coronavirus/2020/03/heres-what-you-need-to-know-if-your-stimulus-check-doesnt-arrive.html)
Some helpful links to understand the Federal Stimulus Package:
What is coronavirus?
Coronaviruses are a large family of viruses, some causing illness in people and others circulating among animals, including camels, cats and bats.
The 2019 novel coronavirus (COVID-19) is a new virus that causes respiratory illness in people and can spread from person-to-person. This virus was first identified during an investigation into an outbreak in Wuhan, China.
What are the symptoms of coronavirus?
Symptoms of the COVID-19 can include:
Fever
Cough
Shortness of breath
The symptoms may appear in as few as two days or as long as 14 days after exposure. Reported illnesses have ranged from people with little to no symptoms to people being severely ill and dying.
How can the Coronavirus spread?
Human coronaviruses spread just like the flu or a cold:
Through the air by coughing or sneezing;
Close personal contact, such as touching or shaking hands;
Touching an object or surface with the virus on it;
Occasionally, fecal contamination.
How can I help protect myself?
If you are sick with COVID-19, or suspect you are infected with the virus, follow the steps below to help prevent the disease from spreading to people in your home and community:
Stay home except to get medical care or necessary supplies
Call ahead before visiting your doctor
Separate yourself from other people and animals in your home
Cover your coughs and sneezes
Wash and sanitize your hands often
Avoid sharing personal household items
Clean all "high-touch" surfaces everyday
Stop smoking. Those who smoke or vape are more likely to contract COVID-19 and symptoms will be more serious if they do.
Monitor your symptoms
Discontinue home isolation under the following conditions:
At least 3 days (72 hours) have passed since recovery defined as resolution of fever without the use of feverreducing medications and improvement in respiratory symptoms (e.g., cough, shortness of breath); and,
At least 7 days have passed since symptoms first appeared.
Updates, Closures, Resources
The Governor has recommended all non-essential businesses close
If your employer cuts your hours or asks you to stay home from work and you aren't getting paid, you likely now qualify for unemployment. For details, visit the link below: uc.pa.gov
PA Turnpike is not accepting cash or card payments at tolls. Drivers must use ezpass or will receive a payment in the mail. For more information go to paturnpike.com
Health.pa.gov is a great resource for FAQ's, case totals, and outside resources
Philadelphia residents can get consistent updates by texting 'COVIDPHL' to 888-777
The PUC has signed an emergency order prohibiting utility terminations during the COVID-19 outbreak. For more information, visit puc.state.pa.us .
Elections: Thanks to Act 77 being passed a few months ago, voting by mail and getting absentee ballots is now easier than ever, especially in a time of crisis. Check out the graphics below on more information on the new voting reforms votespa.com
Evictions and Foreclosures: At a time of uncertainty and instability, no one should have to worry about being evicted from their homes. Today, my caucus sent a letter to the PA Supreme Court to halt evictions and foreclosures for the duration of the disaster declaration.
Evictions and Foreclosures:At a time of uncertainty and instability, no one should have to worry about being evicted from their homes. Today, my caucus sent a letter to the PA Supreme Court to halt evictions and foreclosures for the duration of the disaster declaration.
Small Business Loans: Now more than ever it is crucial that we support our local small businesses and are considering their needs through this crisis.
Grab N Go Free lunch for school-age children weekdays through March 27 at Evans Elementary School in Yeadon and Penn Wood Middle School from 11am-1pm
Delaware County Resources find here https://www.delcopa.gov/ich/resources/coronavirus.html
The American Working Family Relief Action Plan. The plan includes practices for public & private employers, as well as policy positions for local, state & federal governments.
Essential Retail Businesses
Philadelphians will still be able to access essential goods in the next two weeks. The following businesses can remain open if they choose to:
Supermarkets and grocery stores
Big box stores
Pharmacies
Discount stores, mini-markets, and non-specialized food stores
Hardware stores
Gas stations
Banks
Post Offices
Laundromats and dry cleaners
Veterinary clinics for domestic pets and pet stores
News organizations
Drive-through businesses
Hotels
Home/Commercial building repairs
Bike shops, rideshare (Uber/Lyft) considered essential for transportation
Daycare centers are considered non-essential, but can remain open with a waiver from the State.
Food establishments can accept online and phone orders for delivery and pick-up only. Dine-in service will not be allowed for the duration of the restrictions.
Essential Manufacturing/Distribution Businesses
Businesses that also manufacture, distribute or sell any of the following are considered essential and can remain open if they choose to:
Frozen products
Non-specialized stores of computers, telecommunications equipment, audio and video consumer electronics, and household appliances
IT and telecommunication equipment
Hardware, paint, and flat glass
Electrical, plumbing and heating material
Automotive fuel
Domestic fuel
Sanitary equipment
Personal hygiene products
Medication not requiring medical prescription
Medical and orthopedic equipment suppliers
Optics and photography equipment
Soaps and detergents
Officials also have clarified that construction sites will be considered essential during the period of the restrictions.
Businesses not included in the lists above should refer to the latest guidance from the health commissioner. These include infrastructure and industrial businesses, as well as health care and social services.
A variety of resources and assistance are available to provide relief to businesses during this period.
Businesses that need help determining if they are considered essential or non-essential are asked to email vbeoc@phila.gov. Business owners who would like to receive information about business relief programs can email business@phila.gov.
Social Distancing:
Social distancing can be difficult and confusing. Remember that it is important to stay home whenever possible, monitor yourself and loved ones, and don't forget to take care of your mental health. For more information on how to do these things click here:
Access to Food/School Meals
Time Sensitive Opportunity–How to Bid for the USDA Food Box Distribution Program
This USDA program is a procurement opportunity for farms, food processors, and distributors. The program will procure $3 billion in food boxes and is designed to address food supply chain and emergency food relief needs resulting from COVID-19
Program Overview
The USDA anticipates the release of the application for its Food Box Distribution Program on Friday, April 24th. This program and application for bids is intended for farmers, processors, and food distributors who can source, assemble, and deliver food boxes for partner non-profit organizations, food banks, and food pantries that are serving individuals and families in need during this pandemic.
The intent of the program is to divert certain commodities (e.g. fresh fruits and vegetables; dairy products; precooked meats; fluid milk) towards 501(c)3 organizations that are providing emergency food relief to their clients. These nonprofits, food banks, and food pantries are experiencing a huge spike in demand for emergency food relief, oftentimes more than 50% the number of clients they were serving pre-pandemic. Food system and supply chain distributions due to COVID-19 have also meant that some of these same food products have not been able to make it to their intended market outlets and were going to waste. Successful bids to this program will demonstrate how the applicant will be addressing both of these realities, and how they'll succeed in supporting both U.S. farmers and individuals and families needing assistance securing food.
This USDA procurement program is unique in that it is not dealing in full truckloads of product. Instead, this program is meant to facilitate smaller food drops that can go from "truck to trunk." In other words, the bid will include one of several "food box" options for applicants to source, assemble, and deliver in a format that is accessible and intended for "household" consumer use. While this does not preclude foodservice-style packaging, the boxes should have a diversity of food options, and packaged in unit sizes that are appropriate for the intended end users of individuals and households.
The USDA is ultimately looking to fund any entity that has the capacity to source eligible products, assemble those products into boxes, and deliver the boxes to nonprofit partners. Therefore, any farm, food hub, or other food business or organization that has the capacity to do this would qualify for the program. Funded entities will be responsible for managing all of the supply chain considerations necessary for getting these boxes to individuals and families in need; by design, however, it also provides a lot of leeway to the applicant on how they will make that happen. Applicants have a lot of flexibility in terms of the make-up of the food boxes, how many are delivered to any one site, how many sites will be covered on what delivery schedule, the vehicle size required by the program, and more.
Organizations Providing Food to the Community of West Philadelphia.
For updates go to: https://www.philabundance.org/find-food/food-map/#wpsl-search-wrap
Wharton Wesley Helping Hands
Church of Christian Compassion
Mount Zion Baptist Church
Reba Brown Apartments
Faith Temple Pentecostal Church
Berry Long Prayer and Fasting Group
Ezekiel Baptist Church
Holy Temple Lord and Savior
Salvation Army West Philadelphia Corps
Saint Joseph Baptist Church
Redeeming Love Worship Center
Church of the Holy Apostles
48th Street Mount Pleasant Baptist Church
Mount Carmel Baptist Church
West Philadelphia SDA
Holy Temple Community Center
Zion Pentecostal Community Church
5341 Catharine Street, Philadelphia, PA 19143
6121 Cedar Avenue, Philadelphia, PA 19143
1411 S. 50th Street, Philadelphia, PA 19143
1450 South 50th Street, Philadelphia, PA 19143
5618 Kingsessing Avenue, Philadelphia, PA 19143
1745 S. 58th St., Philadelphia, PA 19143
5701 Grays Ave., Philadelphia, PA 19143
5116 Market Street, Philadelphia, PA 19139
5501 Market Street, Philadelphia, PA 19139
224 N. 54th St., Philadelphia, PA 19139
5617 Walnut Street, Philadelphia, PA 19139
260 South 51st Street, Philadelphia, PA 19139
5539 Vine Street, Philadelphia, PA 19139
5732 Race Street, Philadelphia, PA 19139
4527 Haverford Avenue, Philadelphia, PA 19139
363 N. 60th Street, Philadelphia, PA 19139
6055 Vine Street, Philadelphia, PA 19139
215-472-6777
215-472-9040
215-724-0619
215-726-4880
215-729-5370
215-726-2900
215-727-2663
215-474-7656
215-474-1010
215-921-9634
215-472-0780
215-472-3000
215-474-4906
215-476-5320
215-222-5707
215-476-4999
215-431-7291
Philadelphia officials announced designated meal sites for students home from school (March 16-27) due to the coronavirus pandemic, as well as limited recreation centers and the closure of all Free Library locations (March 15-29).
30 schools across the city will provide breakfast and lunch Monday through Friday (9am-12pm) to students in need. The full list is below, but the sites in the 8th district are as follows:
Add B. Anderson School, 1034 S. 60th Street
Andrew Hamilton School, 5640 Spruce Street
William C. Longstreth School, 5700 Willows Avenue
Delaplaine McDaniel School, 1801 S. 22nd Street
Tilden Middle School, 6601 Elmwood Avenue
| | |
| --- | --- |
| School Meal Site | Address |
| Dr. Ethel Allen School | 3200 W. Lehigh Avenue |
| Add B. Anderson School | 1034 S. 60th Street |
| John Barry Elementary School | 5900 Race Street |
| Mary McLeod Bethune School | 3301 Old York Road |
| Cayuga School | 4344-4358 N. 5th Street |
| Jay Cooke Elementary School | 1300 W. Louden Street |
| William Cramp School | 3449 N. Mascher Street |
| A.L. Fitzpatrick School | 11061 Knights Road |
| Benjamin Franklin School | 5737 Rising Sun Avenue |
| Edward Gideon School | 2817 W. Glenwood Avenue |
| Andrew Hamilton School | 5640 Spruce Street |
| William H. Hunter School | 2400 N. Front Street |
| John B. Kelly School | 5116 Pulaski Street |
| Martin Luther King High School | 6100 Stenton Avenue |
| Alain Locke School | 4550 Haverford Avenue |
| William H. Loesche School | 595 Tomlinson Road |
| William C. Longstreth School | 5700 Willows Avenue |
| James R. Ludlow School | 550 W. Master Street |
| Mayfair School | 3001 Princeton Avenue |
| Delaplaine McDaniel School | 1801 S. 22nd Street |
| General George G. Meade School | 1600 N. 18th Street |
| James Rhoads School | 4901 Parrish Street |
| Roxborough High School | 6498 Ridge Avenue |
| George Sharswood School | 2300 S. 2nd Street |
| Solomon Solis-Cohen School | 7001 Horrocks Street |
| Allen M. Stearne School | 1655 Unity Street |
| James J. Sullivan School | 5300 Ditman Street |
| Tilden Middle School | 6601 Elmwood Avenue |
| Vare-Washington Elementary School | 1198 S. 5th Street |
| John H. Webster School | 3400 Frankford Avenue |
Mastery will offer meals at all Mastery school locations on the following days (10a-12p):
Tuesday 3/17, Thursday 3/19, Monday 3/23, Thursday, 3/26. Meal service will take place at each Mastery school location. Students will be able to pick up a breakfast (2 items) and lunch (3 items) for 2 or 3 days at a time.
50 Philadelphia recreation centers will remain open from 10 a.m. to 6 p.m. Monday through Friday. Meals will be distributed at 3 p.m. each afternoon, and "drop-in activities" will be offered.
Recreation Centers in the 8th district:
Christy Rec, 728 S, 55th Street
Cobbs Creek, Rec 280 Cobbs Creek Parkway
Myers, Rec 5801 Kingsessing Avenue
J. Finnegan Playground, 6801 Grovers Avenue
Kingsessing Rec, 4901 Kingsessing Avenue
Vare Rec, 2600 Morris Street
Wharton Square, 2300 Wharton Street
Rite Aid
Free service for anyone
Registration: Patients/family can call local pharmacy or register through website
Currently experiencing a delay if ordered online through website
Any co-pays will need to be paid at time of order
Medication Restrictions
Walgreens
Free service for anyone
Registration: Patients/family can call pharmacy, visit website or Text JoinRx to 21525 for delivery (also pick up)
Medication Restrictions: controlled and test strips cannot be delivered
CVS
Free service for anyone
Registration: patient/family can sign up by calling local pharmacy or through website
Medication Restrictions: Controlled, narcotics, nebulizers and insulin
CVS, Rite Aid and Walgreens located in West/Southwest Philadelphia
CVS
Address
City/Zip Code
Phone #
4000 Monument Rd
4849 Market Street
6900 Lindbergh Boulevard
4314 Locust Street
3925 Walnut Street
3401 Walnut Street, University Of Pennsylvania
6562 Haverford Avenue
7520 City Line Avenue
Philadelphia, PA 19131
Philadelphia, PA 19139
Philadelphia, PA 19142
Philadelphia, PA 19104
Philadelphia, PA 19104
Philadelphia, PA 19104
Philadelphia, PA 19151
Philadelphia, PA 19151
267-233-5021
215-474-4801
215-365-5572
215-386-2093
215-222-0829
215-662-1333
215-748-3432
215-477-8401
Walgreens
Address
City/Zip Code
Phone #
300 N. 63rd St
3550 Market St
Philadelphia, PA 19139
Philadelphia, PA 19104
215-476-2094
267-892-3107
Rite Aid
Address
City/Zip Code
Phone #
5440 Lansdowne Avenue
5040 City Line Avenue
5040 City Line Avenue
5627-99 Chestnut Street
4641-51 Chestnut Street
136 North 63rd Street
6731 Woodland Avenue
5214-30 Baltimore Avenue
4055-89 Market Street
1105-09 N. 63rd Street
Philadelphia, PA 19131
Philadelphia, PA 19131
Philadelphia, PA 19131
Philadelphia, PA 19139
Philadelphia, PA 19139
Philadelphia, PA 19139
Philadelphia, PA 19142
Philadelphia, PA 19143
Philadelphia, PA 19104
Philadelphia, PA 19151
215-877-1506
833-423-7334
215-877-2116
215-474-1163
215-474-5447
215-472-7820
215-724-9677
215-476-1724
215-382-4260
215-879-1663
Governor Wolf Extends School Closure for Remainder of Academic Year
**No school district will be penalized if it fails to meet the 180 day or school hours requirements.**
Additionally, the Pennsylvania Department of Education announced that it received a waiver from the U.S. Department of Agriculture to allow eligible schools to serve meals to low income students in a non-congregate setting, such as a drive-through or grab and go, during this closure.
For more guidance and a complete list of resources provided for school communities, be sure to read the information provided on the by the PA Department of Education.
Schools to Begin Planning for Reopening
The Pennsylvania Department of Education (PDE) today said elementary and secondary schools in the state's yellow and green phases may resume in-person instruction and activities beginning July 1 under a phased reopening approach that first requires schools to develop health and safety plans based on guidelines from the Centers for Disease Control and Prevention (CDC) and the state Department of Health (DOH).
PDE also released guidance that allows postsecondary institutions and adult basic education programs, effective June 5, to begin in-person instruction immediately following the development of a health and safety plan outlining strategies for safe operations.
Given the dynamic nature of the pandemic, the preliminary guidance serves as a starting point for school leaders to consider in reopening preparations, and it will continue to evolve as further research, data and resources become available. Later this month, PDE will release additional guidance that outlines steps for school openings while addressing safe operations, teaching and learning and student wellness – with attention to equity throughout.
The two guidance documents released today provide a list of decisions that schools need to consider prior to reopening.
Elementary and secondary schools that want to begin offering in-person instruction or activities must first develop a health and safety plan, which will serve as a local guideline for all school opening activities. The plans should be tailored to the unique needs of each school and reflect a comprehensive, community approach created in consultation with local health agencies.
Plans must encompass several elements, including identifying a pandemic coordinator or team to lead response efforts; steps to protect high-risk children and staff who may be at higher risk; processes for monitoring students and staff for symptoms; guidelines for hygiene practices; processes for cleaning and disinfecting; guidelines for the use of face masks; protocols for social distancing; and procedures for restricting large gatherings.
The plans must be approved by local boards of directors and posted on the school or district public website before a school reopens. The plans must also be submitted to PDE.
The guidance applies to school districts, charter schools, regional charter schools, cyber charter schools, career and technical centers and intermediate units. Nonpublic schools are strongly encouraged to create plans tailored to their unique needs and post them on their websites.
Finally, postsecondary schools in the yellow and green phases can resume in-person instruction effective June 5 and following the development of a health and safety plan. The guidance applies to colleges, universities, seminaries, trade schools and adult basic education programs. Institutions must adhere to proper physical distancing guidelines and other general public health and safety considerations informed by guidelines released by the CDC and DOH.
School District of Philadelphia Provides Chromebooks for Students
The School District of Philadelphia has launched a plan to ensure all students have access to digital learning opportunities in the event that schools remain closed long term due to COVID-19 (coronavirus) response efforts. The District will loan a Chromebook to every District K-12 student who needs one for learning at home. It will also make digital content available to help students retain, learn and apply skills and strategies with the support of a teacher.
The loaner program is free and there's no obligation to participate. If you are the parent or guardian of a District K-12 student who needs a Chromebook for learning at home, there's nothing you need to do at this time. Principals will notify families of the exact date when they can pick up Chromebooks from their child's school. There will also be other opportunities for K-12 families that miss the school distribution window. All devices must be returned once schools reopen.
If you are fortunate and have computer and internet access at home to meet your child's online learning needs, we ask that you please reserve this program for those who do not.
The School District is also working closely with the City of Philadelphia and Internet service providers to identify Internet access options available to our students and families. A comprehensive list of information and resources is HERE.
With schools closed, Pennsylvania public television stations want you to know that you are not alone. Working with the
Pennsylvania Department of Education
, we have created
Learning at Home
, your connection to thousands of hours of educational and entertaining videos, activities and games to support you. From
Sesame Street
for preschoolers to
NOVA
for high school science students, public television offers engaging programs that will support your child's learning.
These free "Learning at Home" resources are available to families and educators here. Additional information will be added as the partnership expands.
Legal Aid for Area Residents
Legal Aid of Southeastern PA (LASP) offers free civil legal and are continuing to offer their legal services remotely during the COVID-19 coronavirus pandemic.
For civil legal assistance, call their Helpline at 1-877-429-5994 Mon.-Fri. from 9:00 a.m. to 1:00 p.m. or visit lasp.org/apply-here. (The office will be closed Fri., April 10, and will reopen Mon. April 13.)
Walk-in services are currently unavailable due to the COVID-19 pandemic.
Best practices to plan, prepare for and respond to the coronavirus COVID-19
, according to the Centers for Disease Control.
What are the symptoms of coronavirus?
Symptoms of the COVID-19 can include:
Fever
Cough
Shortness of breath
The symptoms may appear in as few as two days or as long as 14 days after exposure. Reported illnesses have ranged from people with little to no symptoms to people being severely ill and dying.
What to do if you think you have coronavirus COVID-19, according to the CDC:
Stay home except to get medical care
Separate yourself from other people and animals in your home
Call ahead before visiting your doctor
Wear a facemask if you are sick
Cover your coughs and sneezes
Clean your hands often
Avoid sharing personal household items
Clean all "high-touch" surfaces everyday
For more details on what to do prevent coronavirus COVID-19 spread, visit the CDCs full list of recommendations.