Sen. Williams Calls on Governor to Get COVID-19 Test Kits to Hardest Hit Areas of Philly
Yesterday, I sent a letter to Governor Tom Wolf calling on him to procure more COVID-19 test kits for the hardest hit neighborhoods of Philadelphia, specifically the ZIP code 19143.
I understand the incredible challenge of securing testing materials and personal protective equipment in this unprecedented time, and I respect the Governor's continued steady leadership through this crisis. However, these low-income communities of color are especially hard-hit, as many residents are essential workers keeping our hospitals, grocery stores, and public transportation networks operating.
Plans on how Pennsylvania will aggressively test and trace the spread of COVID-19 are unclear to many at this point. While the Senate Democratic Caucus has proposed using $650 million of the federal CARES Act funding to improve our healthcare system, including providing for universal testing and detailed contact tracing through the hiring of over 10,000 health care workers dedicated to tracing, the legislative process remains difficult to navigate and slow to respond.
But our workers, our neighbors and our communities need help now.
I respectfully request the Governor do everything in his power under the disaster declaration to aggressively pursue test kits, whether domestically or from abroad, and push those kits out to the areas in which they are most needed, particularly low-income communities of color. To avoid another round of infection and death, we need to provide robust testing and other resources in every community in Pennsylvania regardless of wealth.
Gov. Wolf Announces Reopening of Outdoor Activities
Governor Tom Wolf announced that starting May 1st, golf courses, marinas, guided fishing trips and privately-owned campgrounds can reopen statewide. These facilities are required to follow updated life-sustaining business guidance issued by the Wolf Administration.
These guidelines include specifics for how these outdoor recreational industries can resume activities while prioritizing public health and safety. Campgrounds in state parks will remain closed through Thursday, May 14.
Wolf said that not only is this a responsible step in safely opening Pennsylvania, it is an excellent way for people to improve their mental health by staying active and safely leaving their homes.
The Centers for Disease Control and Prevention (CDC) has issued guidance on visiting parks and recreational facilities. These guidelines must be followed statewide by businesses and when engaging in outdoor activity while the state disaster declaration remains in effect.
Stay close to home: Pennsylvanians are encouraged to enjoy permitted outdoor recreational activities within their community and avoid crowding popular destinations.
Practice social distancing: Maintain the recommended minimum 6 feet apart from fellow recreationists. Pennsylvanians are also encouraged to wear a mask or protective garment that covers the nose and mouth any time they go outside. If a parking lot at a park is full or there are too many people on the same trail, find an alternate place to recreate. Cross the street to avoid running directly past another runner or wait longer at a golf hole for a fellow golfer to move forward.


Minimize risk to others: Individuals should only go out if they feel healthy and have not been exposed to someone who has tested positive for COVID-19.


Practice good hygiene: Wash hands often with soap and warm water for 20 seconds. If soap and water are not available, use a hand sanitizer containing at least 60 percent alcohol. Avoid surfaces that are touched often, such as doorknobs and handrails.


Have a plan: Create a safety plan before heading outdoors. Explain to children the need to keep their distance from others, even if they happen to see a friend while outside. Discuss with partners, social distancing while on the golf course. Think through how to avoid other runners when waiting to safely cross a street at the same time.
Apply for Your Mail-In Ballot for the June 2nd Primary Election
The Pennsylvania primary election will be held on June 2nd, and I am encouraging everyone who wants to cast a ballot to do so by mail-in ballot.
In order to continue mitigating the spread of the COVID-19 coronavirus, all safety precautions should be followed to the best of people's ability, and that includes staying home on election day and voting by mail.
Registered voters can apply online for a mail-in or absentee ballot at votespa.com. The deadline is 5 p.m., May 26. So far, 462,085 voters have applied for a mail-in ballot and 139,572 voters have applied for an absentee ballot.
However, if a mail-in ballot is not an option for you and you do decide to go to the polls, please know that increased precautions are being taken to keep both voters and poll workers safe.
The federal CARES Act and state appropriations from election security and technology is providing funding to ensure adequate safety protocols can be followed.
The PA Dept. of State is also purchasing infection-protection kits for all counties to provide to precincts so poll workers can maintain a safe voting environment at polling locations on June 2. These kits will include masks, gloves, hand sanitizer, floor marking tape and other sanitizing supplies and will be provided to the counties at no cost to them.
County election boards across Pennsylvania may also be temporarily consolidating polling places and relocating voting sites previously housed in places like senior centers, which are now closed because of the COVID-19 emergency.
Once counties have finalized their polling place plans, voters will be able to check their voting location through the Department of State's polling place locator.
For more information on the new mail-in ballots and all things related to voting in Pennsylvania, call the Department of State's toll-free hotline at 1-877-VOTESPA (1-877-868-3772) or visit votesPA.com.
Join the Live Telephone Town Hall
On May 4th, I will be hosting a live Telephone Town Hall at 6:10 p.m. where I will be discussing how the COVID-19 pandemic has impacted education in Pennsylvania. I will be joined by Superintendents William R. Hite, Jr., of Philadelphia, Jane Ann Harbert of William Penn, and Yasir N. Roundtree of Southeast Delco to talk about how their districts are serving our children.
To sign up for this event, listen to the event online, or submit a question online, visit senatoranthonyhwilliams.com/telephone-townhall.
Thank You to All Essential Workers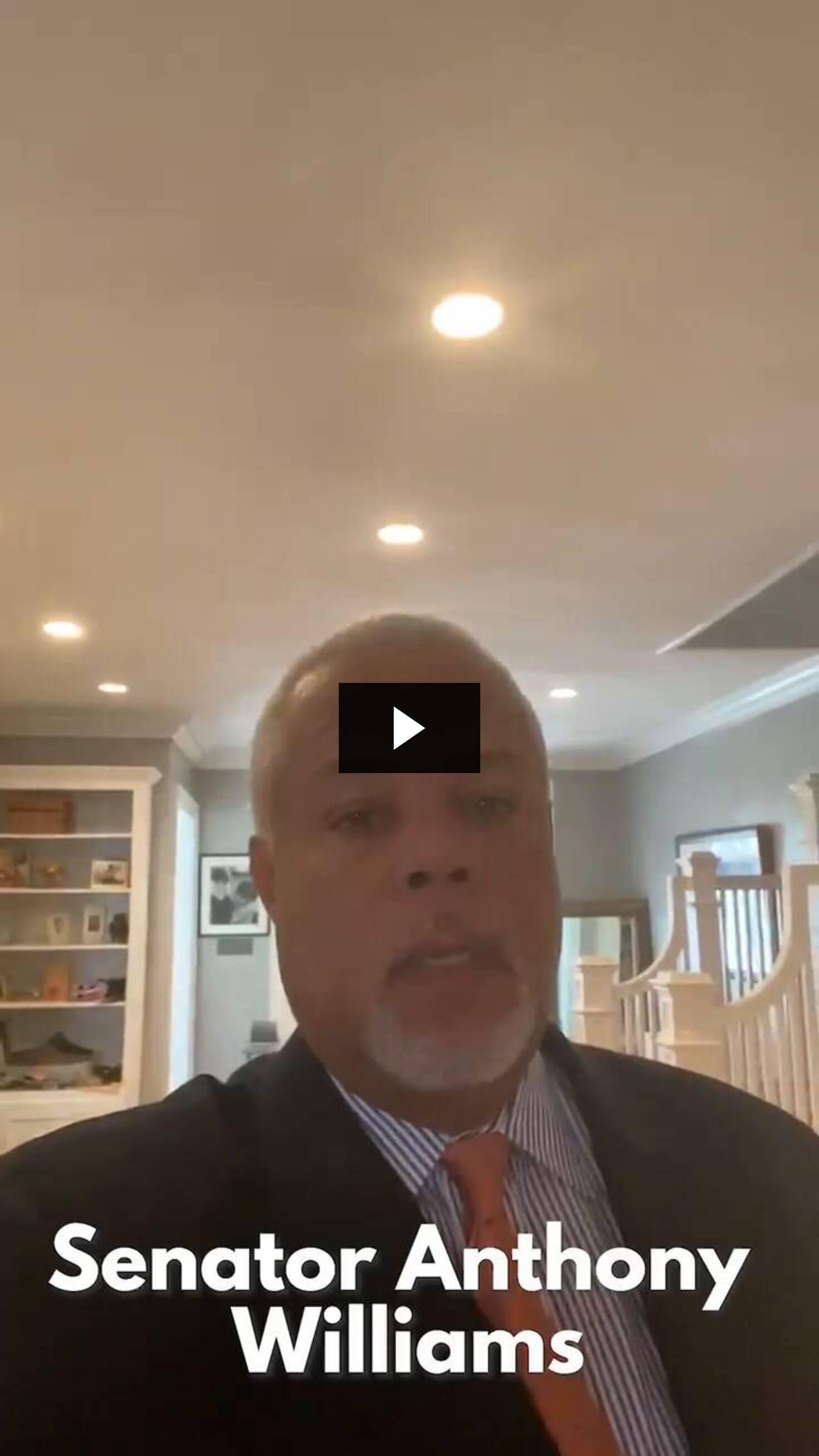 Stay Connected
Follow me on Twitter, Facebook and Instagram the latest news and updates.