Sen. Williams Sends Letter to PA Congressional Delegation Regarding Small Business Assistance
The COVID-19 coronavirus pandemic has affected all of our lives exponentially, but it has hit our businesses communities particularly hard because of the mandated state-wide closures of all "non-life sustaining businesses".
I sent a letter this week to the Congressional Delegation from Pennsylvania telling them that any future authorization of federal money for small businesses should include clear prohibitions against regulatory restrictions which discriminate against a large proportion of minority business owners, include mechanisms for businesses without existing banking relationships to access funds, and accommodate for non-payroll expenses in high cost-of-living areas.  
The CARES Act authorized new programs designed to allow business owners to continue making payroll and meet other operating financial obligations without bureaucratic delay.
However, we've heard from some constituents that operational expenses like rent and franchise fees vastly outweigh payroll costs, and without federal assistance to pay those expenses their businesses are increasingly likely to fail. These owners should not have to repay loans, with interest, based on factors beyond their control while others are forgiven.  
For businesses to survive this pandemic, they need easily accessible avenues to keep their businesses operational, and I call upon our Pennsylvania representatives in Congress to work for this aid for Pennsylvanians.
Gov. Wolf Announces Targeted Reopening for Pennsylvania
Governor Tom Wolf announced the reopening of Pennsylvania and the end to the state-wide "stay-at-home" order in three phases: red, yellow and green. Phases will be assigned based on conditions in a county, counties or region.
This plan takes into account all relevant medical advice to keep Pennsylvanians as safe as possible as we all transition out of the current stay at home order.
The red phase, which currently applies to the whole state, has the sole purpose of minimizing the spread of COVID-19 through strict social distancing, non-life sustaining business and school closures, and building safety protocols. All areas of the state are expected to remain in the red phase until May 8th.
As regions or counties move into the yellow phase, some restrictions on work and social interaction will ease while others, such as closures of schools, gyms, and other indoor recreation centers, as well as limitations around large gatherings, will remain in place. In this phase, we will begin to power back up the economy while keeping a close eye on the public health data to ensure the spread of disease remains contained to the greatest extent possible.
The green phase eases most restrictions by lifting the stay-at-home and business closure orders to allow the economy to strategically reopen while continuing to prioritize public health. While this phase will facilitate a return to a "new normal," it will be equally important to continue to monitor public health indicators and adjust orders and restrictions as necessary to ensure the spread of COVID-19 remains at a minimum.
This is a responsible plan to reopen our state, while continuing to put the public health of all first.
Sen. Williams Calls for Temporary Changes to Business Interruption Insurance with Support of Small Business Owners, PRLA
Several small business owners and the Pennsylvania Restaurant and Lodging Association (PRLA) joined me to call for temporary changes to business interruption insurance in Pennsylvania during the COVID-19 emergency.
Small businesses across the state have been forced to close indefinitely because of the COVID-19 pandemic, and many business owners have learned that their insurance policies do not cover damage or property loss caused by a virus.
I have introduced Senate Bill 1114 with Sen. Vincent Hughes (D- Philadelphia) which would allow for temporary changes to business interruption insurance so that Pennsylvania's small businesses have the ability to make claims for losses and damage related to the COVID-19 pandemic. SB 1114 has received bipartisan support in the state Senate.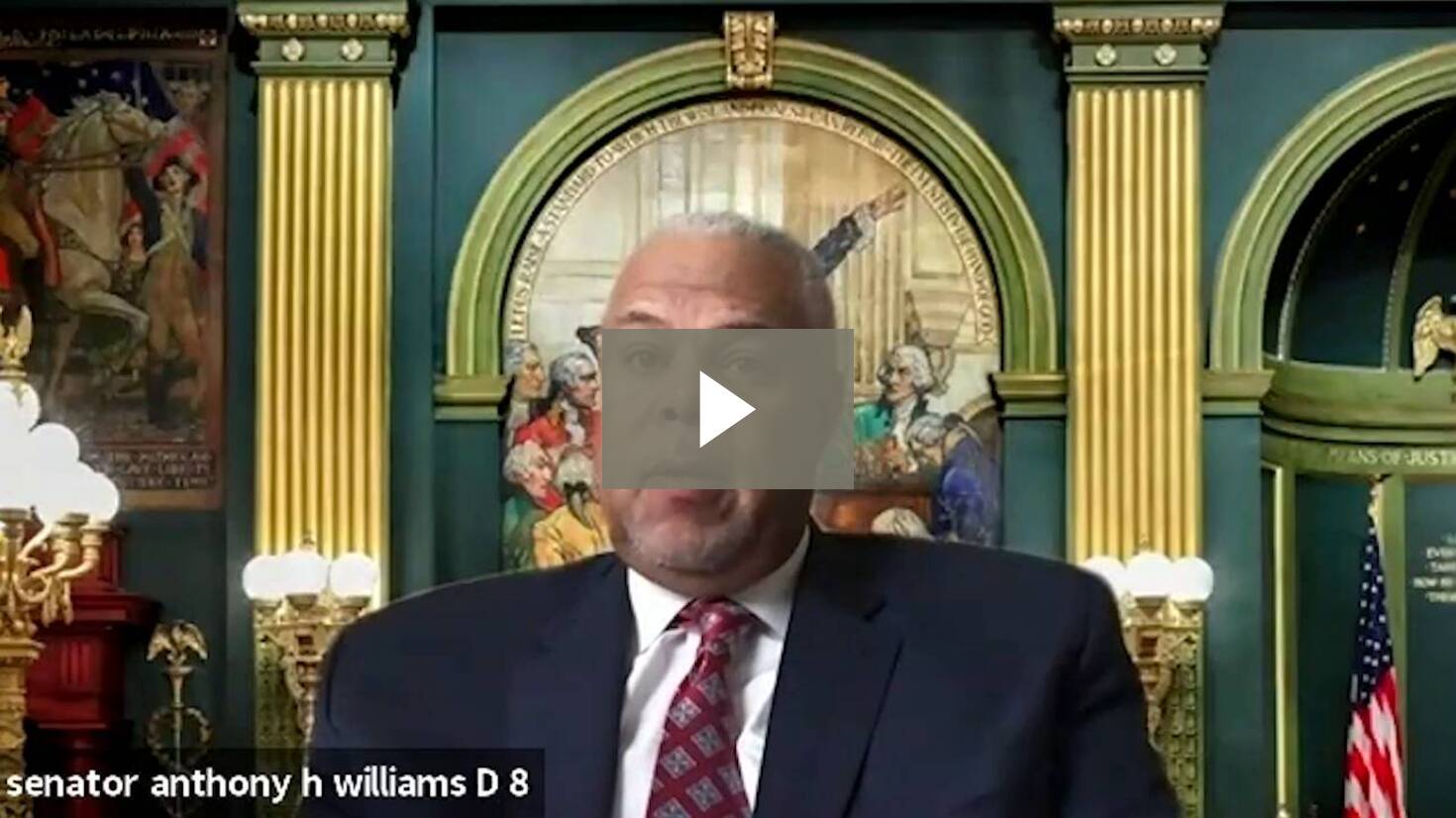 Coming Soon! Stay Strong, Delco!
The Delaware County Economic Development Oversight Board is administering the Delco Strong Small Business Support Grant Program to provide small businesses located in Delaware County with financial relief due to business disruptions caused by the COVID-19 pandemic shut down.
They are working around the clock to prepare this new program. Information and guidelines are live and available now!
Stay Connected
Follow me on Twitter, Facebook and Instagram the latest news and updates.