This Week's Senate Session Recap
This week I joined Senate Session remotely to continue working to make sure that Pennsylvanians remain safe as we weather the COVID-19 pandemic together.
However, legislation was introduced that would endanger the health and safety of everyone in our state and undermine Governor Tom Wolf and Health Secretary Rachel Levine's COVID-19 mitigation efforts.
I voted against Senate Bill 613 because it attempts to reopen business across the Commonwealth. This goes against the medical advice of Secretary Levine and medical professionals across the state and country. Our current situation is not easy. Many people are out of work and facing unprecedented realities, but further risking the health of every Pennsylvanian by reopening business too soon is not the answer to this problem. I am pleased to hear that Gov. Wolf plans to veto this potentially disastrous bill.
I also voted against Senate Bill 327, which would have given local governments authority to reopen businesses in their community before it is medically recommended to do so. You can listen to my full remarks on this bill here.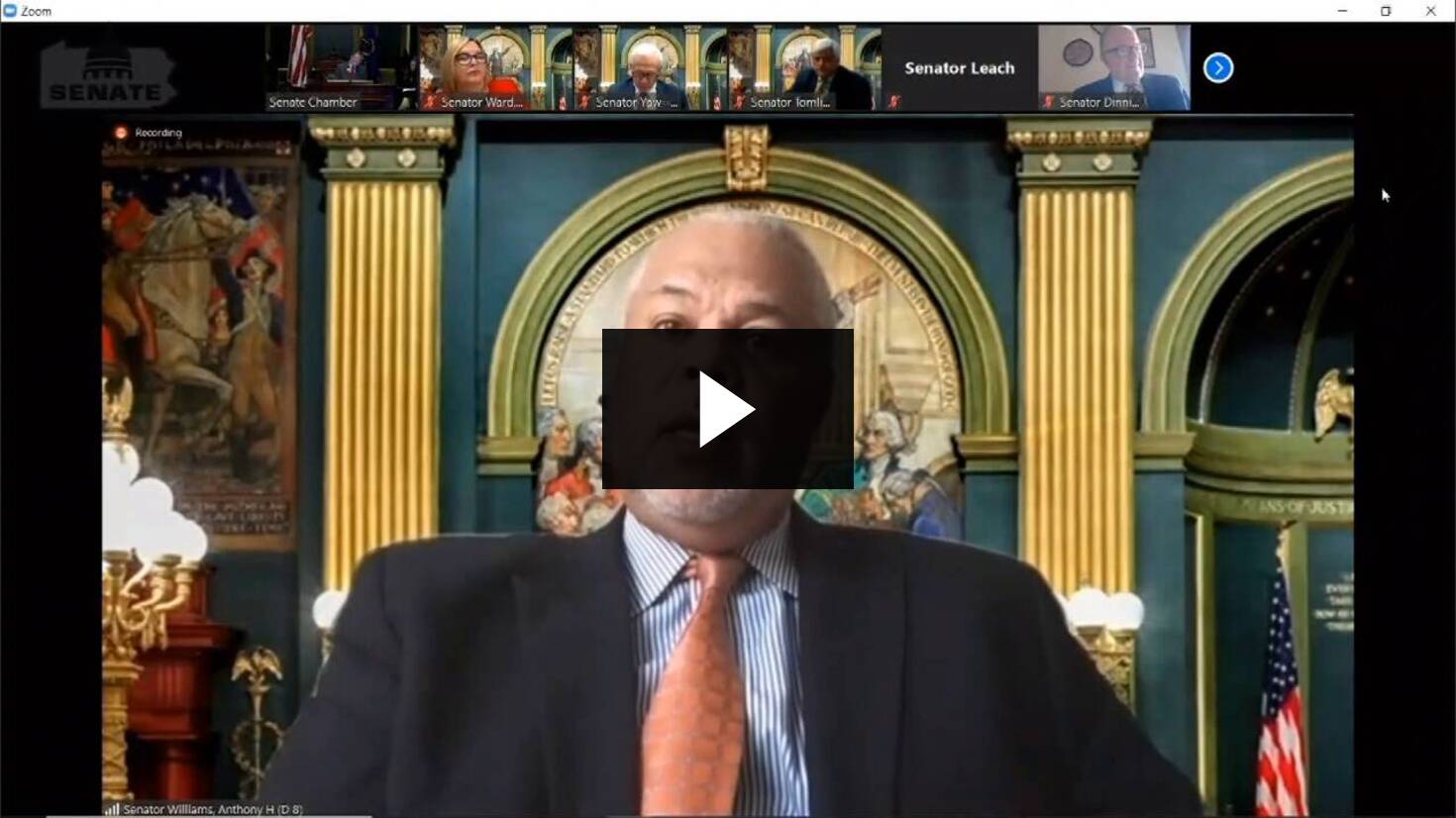 One positive piece of legislation we in the legislature were able to pass this week is Senate Bill 841. This bill allows public entities and notaries to conduct business remotely during the statewide disaster emergency we currently face. This is a positive, safe and responsible step to continue assisting all Pennsylvanians, but keeping health and social distancing in perspective. Governor Wolf will likely sign the bill in the coming days.
Gov. Wolf and Health Sec. Dr. Levine Sign Order Providing Worker Safety Measures
Governor Tom Wolf and Health Secretary Dr. Rachel Levine signed an order this week directing protections for critical workers who are employed at businesses that are authorized to maintain in-person operations during the COVID-19 disaster emergency.
The order establishes protocols to help employees maintain a social distance during their essential work:
Provide masks for employees to wear during their time at the business, and make it a mandatory requirement while at the work site, except to the extent an employee is using break time to eat or drink, in accordance with the guidance from the Department of Health and the CDC. Employers may approve masks obtained or made by employees in accordance with this guidance;


Stagger work start and stop times for employees when practical to prevent gatherings of large groups entering or leaving the premises at the same time;


Provide sufficient space for employees to have breaks and meals while maintaining a social distance of 6 feet, including limiting the number of employees in common areas and setting up seating to have employees facing forward and not across from each other;


Conduct meetings and training virtually. If a meeting must be held in person, limit the meeting to the fewest number of employees possible, not to exceed 10 employees at one time and maintain a social distance of 6 feet.


Ensure that the facility has a sufficient number of employees to perform all measures listed effectively and in a manner that ensures the safety of the public and employees;


Ensure that the facility has a sufficient number of personnel to control access, maintain order, and enforce social distancing of at least 6 feet;


Prohibit non-essential visitors from entering the premises of the business;


Ensure that all employees who do not speak English as their first language are aware of procedures by communicating the procedures, either orally or in writing, in their native or preferred language.
CDC mandated cleaning guidelines for businesses are also a critical part of this order.
These measures are necessary steps in making sure that the essential workers providing health care, providing emergency services, and staffing essential businesses providing food and medical supplies are not facing undue risks while performing these jobs.
Compliance with the order will be enforced beginning Sunday, April 19th at 8:00 p.m.
Join my Telephone Town Hall!
I will be hosting a telephone townhall this Tuesday, April 21st at 5:50 p.m. The topic of discussion will be the COVID-19 coronavirus and the impact it is having on our communities.
I will be joined by Rachel Gallegos of Community Legal Services, as well as Erica Briant of Legal Aid of Southeastern PA.
To sign up for the telephone townhall or to submit questions, visit senatoranthonyhwilliams.com/telephone-townhall. You can also text "SENAHWILLIAMS" to 833-TXT-LIVE (833-898-5483) or call 877-229-8493 PIN#:118642.
Community Services for Elderly and Children
During this COVID-19 coronavirus pandemic, if you or a loved one who is 60 years or older and struggling to obtain food, the Philadelphia Corporation for Aging (PCA) has pick-up and delivery resources available. For more information on delivery, call 215-765-9040 or go to pcacares.org.
The City of Philadelphia's Department of Health Office of Children and Families is also offering services to support babies, toddlers and new mothers during this crisis. To access free food, free diapers and other family support services visit their website.
Stay Connected
Follow me on Twitter, Facebook and Instagram the latest news and updates.